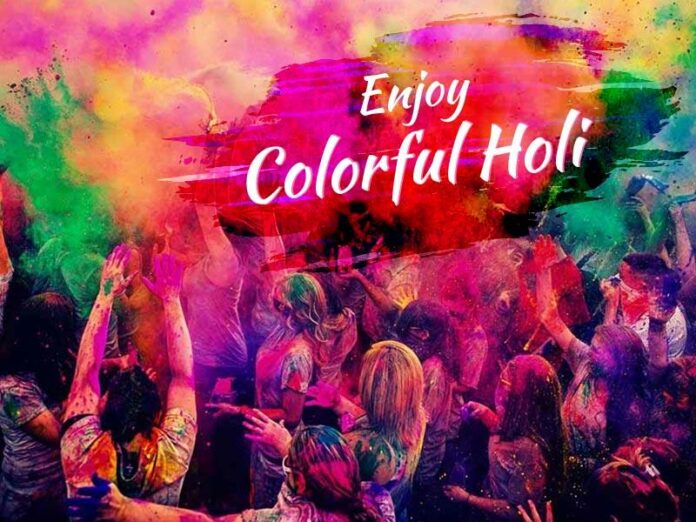 Holi is a most famous festivals of India and it celebrated in every part of the country. It is also called as the "festival of love" on this day people get to together and forget all angers and all types of bad feeling towards each other.  It starts in the evening of Purnima or the Full Moon Day in the month of Falgun. It is celebrated with the name Holika Dahan or Choti Holi on first evening of the Holi. The ritual starts by lighting up the bonfire one day before the day of Holi. On the day of Holi people play with colours with their friends and families and in evening they show love to their close ones with Gulal.
Read or click for Creative Holi Wallpaper and Images
Holi Puja Vidhi – Holi Puja Procedure
Before the pooja get ready with these materials – one bowl of water, beads made of cow dung, rice, roli, dhoop sticks, cotton threads, pieces of turmeric, Moong lentils (green gram), Batasha, coconut and Gulal powder. Newly harvested crops of wheat and gram and used during the puja.
Light the earthen lamp and dhoop stick.
Do worship of Lord Ganesha first. Take some flower, rice and water in hand
Then do worship of goddess Durga.
Now do puja of Prahlad by singing (Om Prahladaya Namah). Show lamp and dhoop to him.
Now do the worship of Holika. Show lamp and dhoop to her. Then offer rice, flower, sweets,
coconut, turmeric pieces, moong lentils and badkula to her.
Holika is burnt after above Holi Puja.
Roast the grains in the bonfire and take them to your home. Distribute it among family members as prasad.
Holi Songs, Holi song Bollywood list – List of Famous Holi Songs
Rang Barse – Silsila (1981)
Holi ke Din – Sholay (1975)
Go Pagal – Jolly LLB 2 (2017)
Balam Pichkari – Yeh Jawaani Hai Deewani (2013)
Gali Gali – Pataakha (2018)
Soni Soni – Mohabbatein (2000)
Holi Khele Raghuveera – Baghban (2003)
Lahu Muh Lag Gaya – Goliyon ki Raasleela Ram-Leela (2013)
Do Me a Favor Let's Play Holi – Waqt – The Race Against Time (2005)
Badri ki Dulhaniya – Badrinath ki Dulhaniya (2017)
Ang se ang lagana sajan… Darr
Mal de gulal mohe, aaye holi aaye re… Kaamchor
Apne rang mein rang de mujko … Aakhir Kyon
Aayee re aayee re holi… Zakhmee
Phagun aayo re… Phagun
Arre ja re hat natkhat… Navrang
Aaj na chodenge bas humjoli khelenge hum holi… Kati Patang
Holi aaye re kanhayee… Mother India
Tan rang lo ji aaj mann rang lo… Kohinoor
dekho holi aayi… Mashaal
Rang di preet ne rang di… Dhanwan
Koi bheega hai rang se … Mumbai Se Aaya Mera Dost
History of Holi
Holi was originally known as Holika, Historians believe that Holi was celebrated by all Aryans but more so in the Eastern part of India. In ancient India there was a king which was like a monster. He wanted to take revenge for the death of his younger brother who killed by Lord Vishnu. Hiranyakashyap start to understand himself as God and asked people to worship Him like God. Hiranyakashyap son Prahlad was the supreme follower of Lord Vishnu. Prahlad never considered his father's word because of this the king decided to kill his son. The king told his sister Holika that she should take Prahlad in the lap and sit in the fire because the Holika could not burn in the fire. Prahlad used to take the name of Lord Vishnu  and was saved but the Holika was burnt.
Holi puja Video