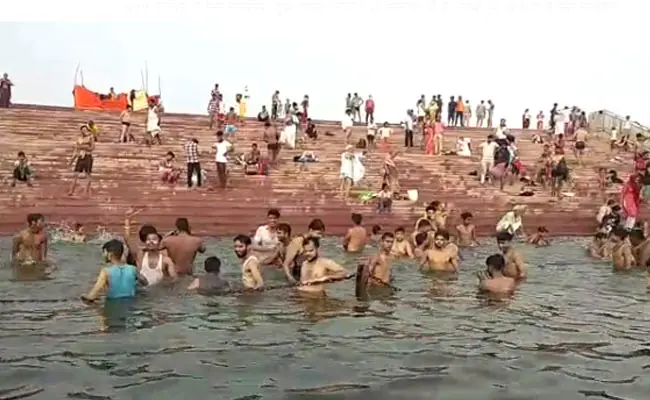 Despite the ban on Ganga Dussehra in Garhmukteshwar, people took bath in the Ganges.
Hapur:
possible third wave of corona (Covid- There is no warning given by AIIMS chief Dr. Randeep Guleria regarding Third Wave) on Ganga Dussehra today. Effect not seen. Despite the ban, thousands of people took bath in the Ganges. A large number of devotees gathered at the Ganga Ghat in Garhmukteshwar of Hapur. People took a bath in the Ganges, flouting the Kovid rules. Not only in Garhmukteshwar, people also took bath in the Ganges in Varanasi, Prayagraj, Mathura, Haridwar and Rishikesh. Although there was no ban on bathing in Mathura and Prayagraj, but there was not much crowd there.
300Third wave of corona may come in next 6 to 8 weeks: AIIMS chief told NDTV64
It is worth noting here that a day earlier, AIIMS chief Dr. Randeep Guleria had said that there is a possibility of corona in the next 6 to 8 weeks in the country. A wave may come. Regarding the Covid-Appropriate Behavior, he had also said that what happened between the first and second wave .. we did not learn from it. The crowd is increasing again… People are gathering in huge numbers. If this continues, it will take some time for the number of corona cases to increase at the national level."
Ganga Dussehra : Strictness on Har ki Pauri of Haridwar, bath is not allowed without corona negative report
No effect of DM's order
DM Anuj of Hapur Singh has banned bathing in Garhmukteshwar. DM has written in his circular citing the unlocking guidelines that since only five people are allowed to gather together at any religious place in view of the dangers of Kovid, but on this occasion, there is a crowd of lakhs in Garhmukteshwar. , so this time there will be a ban on this bath. But despite the ban, such a crowd has reached there.