Gama was a wrestler from India. Ghulam Mohammad Bakhsh Butt was his true name. Rustum-e-Hind is another name for Gama Pehlwan. He was the world's unbeaten wrestler at the turn of the twentieth century.
Throughout his 50-year career, he remained unbeatable also regarded as one of the greatest wrestlers of all time. Following India's division in 1947, he relocated to the newly established state of Pakistan.
Gama Wrestler Biography
Gama Personal Info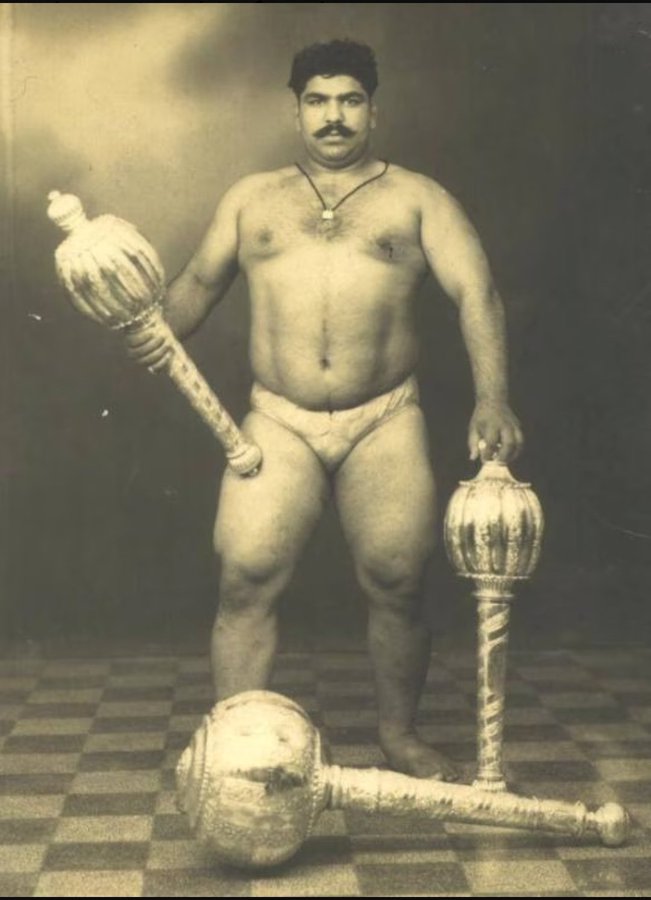 Name – Ghulam Hussain Baksh Butt
Nick Name – Rustum-e-Hind, Rustum-e-Zaman, The Great Gama
Name in the arena (Ring Name) – Gama Pehalwan
Born – 22 May 1878
Age – 82 years (at the time of death)
Birth Place – Village Jabbowal Amritsar, Punjab, British India
Date of Death – 23 May 1960
Place of Death – Lahore, Punjab, Pakistan
Cause of Death – Due to chronic heart disease and asthma
Hometown – Amritsar, Punjab, India
Zodiac sign – Gemini
Nationality – Indian
Religion – Islam
Caste – Kashmiri
Body Measurements
Chest – 46 inches
Waist – 34 Inch
Arm – 22 Inch
Weight – 110 kg
Height – 5 feet 8 inches
Eye Color – Black
Hair Color – Black
Profession Former – Indian wrestler
Marital Status – Married
Birth and early life of Gama Pehalwan
Gama Pehlwan was born in a Muslim household on May 22, 1878. Muhammad Aziz, his father, was a well-known wrestler in his own right. He was born into a wrestling family in Punjab that was recognised for producing world-class wrestlers.
Historians believe the Bakhshs were originally Kashmiri Brahmins (Butta) who converted to Islam under the Muslim reign in Kashmir.
Marriage of Gamma Wrestler, Wife
Gama married twice in his life, first to Wazir Begum and once to another woman. He was the father of five boys and four daughters. Nawaz Sharif's wife is his granddaughter Kalsoom Nawaz. Saira Banu, Kalsoom's sister and Gama's granddaughter, is Zara Pehlwan's wife.
The beginning of Gama Pehelwan's Wrestling career
When Gama was 6 years old, he lost his father, Muhammad Aziz Bakhsh, who was also a prominent wrestler. After the death of his father, he was looked after by his maternal grandfather and wrestler Noon Pehlwan.
After the death of Noon Pahlwan, he was placed under the care of his uncle Ida, another wrestler, who gave Gama his first training in wrestling.
Wrestling training of Gamma Wrestler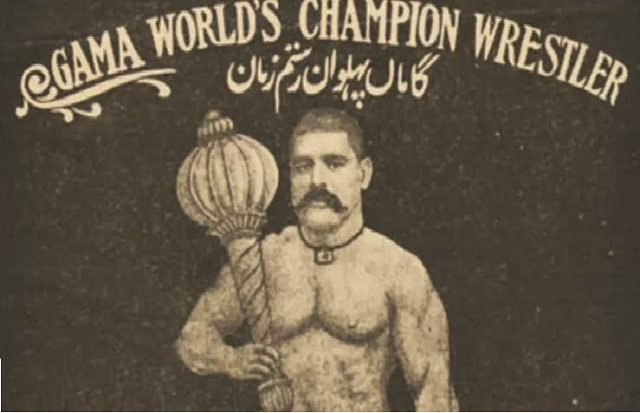 Gama initially gained attention in 1888, when he joined a strongman tournament in Jodhpur at the age of ten.
Gama finished in the top 15 in the tournament, and the Maharaja of Jodhpur was so delighted with Gama's performance that he pronounced him the winner despite his young age.
When the Maharaja of Datia heard about Gama's wrestling, he put him through training, and Gama's professional wrestling career started.
Gama Pehalwan's Diet & Workout Plan
Wrestling is not for everyone, and getting into that perfect body takes a well-disciplined regimen, as well as additional caution when it comes to eating. Wrestlers like Gama have carved out a place for themselves when it comes to nutrition programmes.
Gama Pehalwan's diet was mind-blowingly delicious. His daily diet includes 2 gallons (7.5 litres) of milk, 6 country chickens, and almost a pound of crushed almond paste combined into tonic cocktails, according to accounts.
Workout routine of gamma wrestler
A well-balanced diet is essential for developing a healthy physique. Gama was quite particular about his daily fitness routine. He became one of the world's best wrestlers as a result of his unwavering dedication to his exercises.
According to stories, Gama used to spar on the court with 40 of his fellow wrestlers during daily training. Gama would also perform 5000 situps (squats) and 3000 dandas (pushups) every day.
The Great Gama used to squat with a donut-shaped training disc weighing 95 kg. The disc is presently on exhibit in Patiala's National Institute of Sports (NIS) museum.
The turning point of Gama Pehalwan's life
Gama, at 17, challenged Rahim Baksh Sultani Wala (then Indian wrestling champion), another ethnic Kashmiri wrestler from Gujranwala, now in Punjab, Pakistan, in 1895.
Rahim Bakhsh Sultani Wale was a middle-aged kid who was around 7 feet tall and had an amazing track record.
The fight lasted many hours and ended in a tie. Gama's interaction with Rahim Baksh Sultani Wala was a watershed moment in his career.
Except for Rahim Baksh Sultani Wala, Gama had defeated all of the prominent Indian wrestlers he had faced by 1910. Following his home victories, Gama turned his focus to the rest of the world.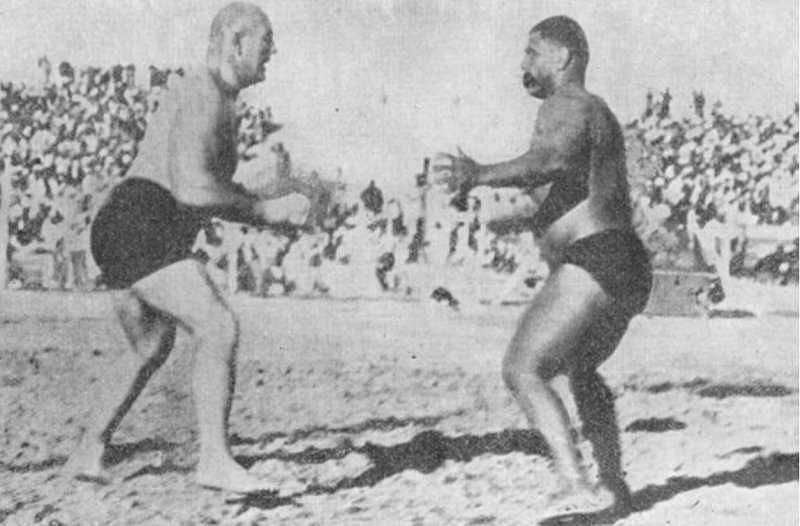 Gama wrestler's challenge
Gama travelled to England with his younger brother Imam Bakhsh to fight against Western wrestlers. However, due to his tiny stature, he was unable to gain entrance right away.
While in London, he issued a challenge to throw any three wrestlers of any weight class in 30 minutes, but no one showed up since they thought it was a bluff.
Furthermore, Gama challenged Stanislaus Zbyszko and Frank Gotch to come forward or pay over the award money.
But it was American wrestler Benjamin Roller who accepted Gamma's challenge first.
Gama pinned him for the first time in 1 minute 40 seconds and again in 9 minutes 10 seconds. The next day, Gama beat 12 wrestlers to qualify for the actual competition.
Wrestling competition between Gama and world champion John Bull
Gama met world champion Stanislaus Zbyszko in the final of the John Bull World Championships in London on September 10, 1910. The match's prize money was £250 (22000). Zbyszko drew the legendary Gama after nearly three hours of wrestling.
The next time, Zbyszko and Gama were scheduled to compete, but Zbyszko did not show up, and Gama was proclaimed the winner.
Record of Gama Pehalwan
While on a tour of the then Baroda State (Vadodara) to participate in a wrestling competition, Gama Pehelwan lifted a stone weighing more than 1,200 kg. is now kept in the Baroda Museum.
Challenge of Gama Pehalwan which remained incomplete
After defeating several of the world's top wrestlers, Gama issued a challenge to the remaining world champions, including Russia's Georg Hackenschmidt, Japan's Taro Miyake, and the United States' Frank Gotch. However, they all refused his invitation.
At one time, Gama challenged 20 English wrestlers to battle back-to-back, but no one accepted his challenge.
When Gama returned from England, he met Rahim Baksh Sultani Wala in Allahabad. Gama acquired the title of "Rustom-e-Hind" after a protracted battle.
Gama wrestler to get tiger title
Until 1927, Gama had no opponents. However, it was revealed shortly after that Gama and Zbyszko would meet each other again.
Gama beat Zbyszko in under a minute in a match at Patiala in January 1928, winning the Indian version of the World Wrestling Championship. Zbyszko referred to Gama as a "tiger" after the match.
The beginning of the end of Gama Pehelwan's wrestling
Gama's final bout occurred in February 1929 against Jesse Peterson. Gama was victorious after only one and a half minutes of fighting.
Gama vanquished all of the Nizam of Hyderabad's warriors at his request in the 1940s. The Nizam then dispatched him to face wrestler Balram Hiraman Singh Yadav, who had never been defeated in his life. Gama was unable to overcome him after a long struggle, and neither wrestler won.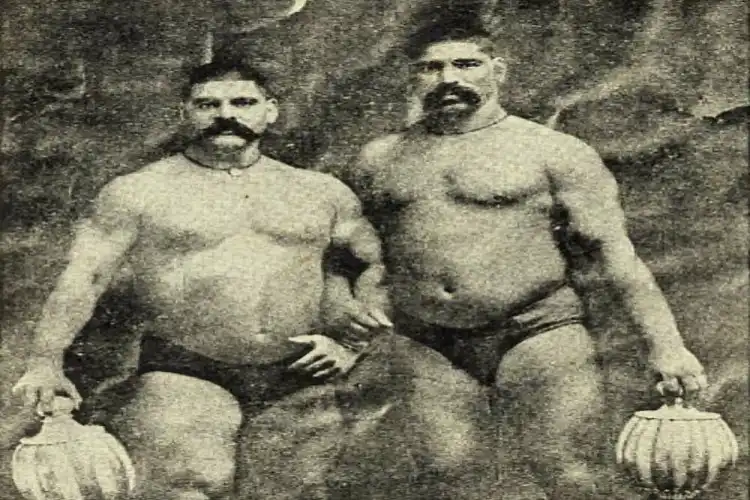 Retirement of Gama wrestler
Till his retirement in 1952, Gama had no other opponents. After his retirement, Gama trained his nephew Bholu Pehlwan, who held the Pakistani Wrestling Championship for nearly twenty years.
Death of gamma wrestler
Gama suffered from a chronic ailment in his final days and struggled to pay for his care. To aid them, businessman and wrestling lover GD Birla contributed ₹2,000 and a monthly pension of ₹300.
The Pakistani government also covered his medical bills until his death.
FAQ
Q 1. How many kilos of stone was lifted by Gama Pehalwan?
Ans. 1200 kg
Q 2. What was the dosage of Gama Pehalwan?
Ans. Gama Pehalwan's diet was such that it will blow your senses. According to sources, his daily diet included 2 gallons (7.5 litres) of milk, 6 country chickens and over a pound of crushed almond paste mixed into tonic drinks.
Q 3. Who is the number one wrestler of India?
Ans. Gamma Wrestler
Q 4. Who is the strongest wrestler of India?
Ans. Gamma Wrestler
Q 5. What was the height of Gama Pehalwan?
Ans. 5 feet 8 inches
Q 6. When did Gama Pehalwan die?
Ans. 23 May 1960
For more interesting and trending topics stay connected with hotgossiops.com