Hera Pheri 3 will feature Kartik Aaryan as Akshay Kumar reportedly refused to do the film due to a lack of clarity in the script. Additionally, Akshay Welcome and Awara Pagal Deewana walked out of the sequel. Kartik will be seen in Hera Pheri 3, actor Paresh Rawal confirmed on Twitter.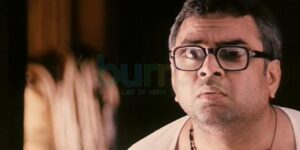 "@Sir PareshRawal sir, is it true that Kartik Aaryan is doing Hera Pheri 3?," a fan tweeted, tagging Paresh Rawal. Paresh responded by tweeting, "Yes, it's real." One user responded to this news by writing, "No Akshay, No Hera Pheri." The second guy said, "This news is more distressing than news of losing the World Cup," adding, "Ye toh world cup mai haar se bhi zayada dukh bhara news hai." "We want all three (Akshay, Suniel, and Paresh) in the movie, no one can fathom Hera Pheri 3 without Akshay," a third individual commented.

Kamaal R. Khan tweeted in response to this information, "Since @Sir Paresh Rawal revealed the secret, let me give full news! #HeraPheri3 has been signed by @The Aaryan Kartik. Additionally, Paresh and @SunielVShetty will do their parts. @BazmeeAnees has been requested to direct by producer #FerozNadiadwala. At this time, Anees Bhai must decide between #BB3 and #HP3. He mentioned Hera Pheri 3 and Bhool Bhulaiyaa 3. So Kartik is starting to take over Akshay's movies, someone wrote.
The comedy film Hera Pheri was made by A. G. Nadiadwala and directed by Priyadarshan. It included important parts for Akshay Kumar, Suniel Shetty, and Paresh Rawal. It was really popular.
Following the commercial success of Bhool Bhulaiyaa 2, Kartik will next be seen in Freddy, which will premiere on Disney+ Hotstar on December 2. He is now working on Satya Prem Ki Katha with Kiara Advani and Shehzada with Kriti Sanon. His upcoming project is Aashiqui 3 as well. The film's creators have not yet revealed who actor would play his opposite in Aashiqui 3.