On the evening of Diwali, the special worship of Lakshmi-Ganesh, Kuber, and Mata Saraswati is done at an auspicious time. Let us know at which auspicious time to worship Lakshmi-Ganesh this Diwali and all the information related to worship.

Diwali, the festival of light, will be celebrated on Monday, October 24 this year. Diwali is the biggest festival in Hinduism. It is celebrated on the new moon day of the Krishna Paksha of Kartik month. Diwali is the festival of lights. It is believed that on this day Lord Rama came to Ayodhya after conquering Lanka, in whose happiness all the townspeople lit a lamp to welcome their Lord Rama. Apart from this, there is also a belief that Goddess Lakshmi appeared on Deepawali, due to which Lakshmi worship has special significance on Diwali. Donating a lamp to Kartik Amavasya has special significance. According to the Puranas, during the churning of the ocean, Goddess Lakshmi appeared on the new moon of Kartik month, while according to Valmiki Ramayana, Mata Lakshmi was married to Lord Vishnu on this day. Because of this, every year on Diwali, there is the significance of Lakshmi Puja. Many days before the arrival of Diwali, the cleanliness and decoration of the houses start. On the evening of Diwali, the special worship of Lakshmi-Ganesh, Kuber, and Mata Saraswati is done at an auspicious time. Let us know at which auspicious time to worship Lakshmi-Ganesh this Diwali and all the information related to worship…


Diwali 2022– 24 October
Auspicious time for Lakshmi-Ganesh worship – from 06:54 pm to 08:16 in the evening
Duration of Lakshmi Puja – 1 hour 21 minutes
Pradosh Kaal – 05.42 pm to 08.16 pm
Vrishabha period – 06:54 pm to 08:50 pm

Diwali Laxmi Puja Mahanisheeth Kaal Muhurta
Lakshmi Puja Muhurta – From 11:40 pm to 12.31 am
Duration – up to 50 minutes
Diwali Shubh Choghadiya Muhurta 2022
Evening Muhurta (Amrit, Chaal): 17:29 to 19:18 minutes
Ratri Muhurta (Benefit) :22:29 to 24:05 minutes
Ratri Muhurta (auspicious, nectar, moving): from 25:41 to 30:27 minutes
Significance of the auspicious time of Lakshmi Puja on Diwali
There is a law to do special worship of Goddess Lakshmi on Diwali. On Diwali, Goddess Lakshmi, Lord Ganesha, Lord Kuber, and Goddess Saraswati are worshipped. According to the scriptures, worshiping Lakshmi during the Pradosh period is considered the most auspicious. Pradosh Kaal means three Muhurtas after sunset. Apart from this, worshiping Lakshmi in a stable Lagna is considered best during the Pradosh period. It is believed that in the worship-worship done in a stable ascendant, Goddess Lakshmi definitely starts residing there as part of her.
Diwali Lakshmi Puja Method
Every year on the day of Kartik Amavasya, the festival of Deepawali is celebrated in the country and abroad. On this day, the preparations for worship start in the morning. The houses are decorated with Rangoli and lighting. Maa Lakshmi, Lord Ganesha, Maa Saraswati, and Kuber Devta are worshiped and worshiped in the auspicious time on the evening and night of Diwali. According to religious beliefs, on the night of Kartik Amavasya, Goddess Lakshmi comes from heaven to earth and roams from house to house. The houses in which there is cleanliness, decorated, and light everywhere. There Mother Lakshmi starts residing in her part form. When Lakshmi resides at home, there always remains happiness, prosperity, wealth, and peace. For this reason, many days before Diwali and on the day of Diwali, there is a tradition of worshiping to get special blessings from Goddess Lakshmi by cleaning and decorating the house. Let us know how to do Lakshmi Puja on Diwali.
First of all, wake up early in the morning on Diwali and clean the house and place of worship again. Then sprinkle Gangajal all over the house and make Rangoli at the main entrance of the house.
Keeping in mind the puja muhurta in the evening, keep a checkpoint at the place of worship and then spread a red cloth over it.
– After laying the red cloth on the post, install the new Lakshmi-Ganesh, Lord Kuber, and Maa Saraswati idols bought from the market.
After this, fill the vase with water and keep mango leaves in front of the statue.
While invoking all the deities including Goddess Lakshmi and Lord Ganesha, apply tilak on all the idols and by lighting a lamp, praise Maa Lakshmi by offering water, Molly, Janeu, Akshat, fruits, turmeric and flowers.
After the praise of Goddess Lakshmi, worship Goddess Saraswati, Mother Kali, Lord Vishnu and Kuber Dev with the law.
While worshiping Goddess Lakshmi and Lord Ganesha on Diwali, all the members present at home should gather there.
After worshiping Mahalakshmi, worship the safe, bookkeeping, books and business resources of the house.
In the end, light the house by lighting a lamp of ghee and oil in every part of the house and take prasad.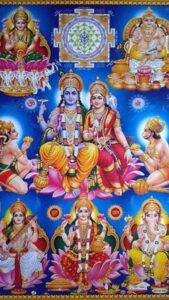 Diwali Lakshmi-Kubera Puja Mantra
ॐ श्रीं श्रीयै नम:

ॐ ह्रीं श्रीं लक्ष्मीभ्यो नमः॥ 

ॐ श्रीं ह्रीं श्रीं कमले कमलालये प्रसीद प्रसीद ॐ श्रीं ह्रीं श्रीं महालक्ष्मयै नम:॥

कुबेर प्रार्थना मंत्र-धनदाय नमस्तुभ्यं निधिपद्माधिपाय च। भगवान् त्वत्प्रसादेन धनधान्यादिसम्पद:।।
Maha Lakshmi mantra
ॐ श्री ह्रीं श्रीं कमले कमलालये प्रसीद प्रसीद ॐ श्रीं ह्रीं श्रीं ॐ महालक्ष्मयै नमः।।
Shri Lakshmi Beej Mantra
ॐ ह्रीं श्रीं लक्ष्मीभयो नमः॥
Arghya Mantra
क्षीरोदार्णवसम्भूते सुरासुरनमस्कृते।
सर्वदेवमये मातर्गृहाणार्घ्य नमो नम:।।
Request mantra
सुरभि त्वं जगन्मातर्देवी विष्णुपदे स्थिता।
सर्वदेवमये ग्रासं मया दत्तमिमं ग्रस।।

Prayer mantra
सर्वमये देवि सर्वदेवैरलड्कृते।
मातर्ममाभिलाषितं सफलं कुरु नन्दिनी।।

Diwali Laxmi Poojan material
1- conch
2- lotus flower
3- Gomti Chakra
4- Coriander seeds
5- Raw water chestnut
6- pearls
7- Lotus Garland