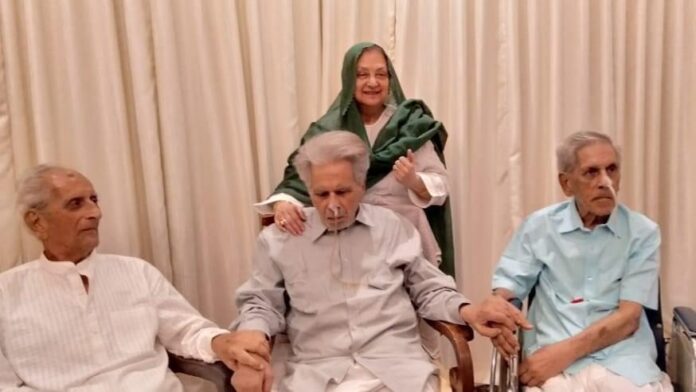 Dilip Kumar's Latest News: Veteran actor Dilip Kumar has been admitted to Hinduja Hospital in Mumbai on Sunday. Dilip Kumar's wife Saira Banu said that Dilip sahib has been admitted to Non-Covid PD Hinduja Hospital for routine checkup. He had trouble breathing for the past several days. Dr. Nitin Gokhale's team is taking care of him at Hinduja Hospital. Saira Banu has appealed to the people that please keep praying for Sahab and you too stay safe.
Dilip Kumar, who was admitted last month also, was admitted in the same hospital last month also. Even then it was being said that he was having trouble in breathing, but later his wife Saira Banu issued an official statement saying that he was admitted to the hospital for routine checkup. He was discharged after all the checkups.
Last year, two brothers had died from
Corona, due to Corona, two younger brothers of Dilip Kumar had died last year. On August 21, Aslam, aged 88, and then on September 2, Ehsaan, aged 90, passed away. Due to this, Saira Banu and Dilip Kumar did not celebrate their 54th wedding anniversary on 11 October.
Dilip Kumar Padma Bhushan, Dadasaheb Awardee
Dilip Kumar's real name is Mohammad Yusuf Khan. He wrote 'Jwar Bhata' (1944), 'Andaz' (1949), 'Aan' (1952), 'Devdas' (1955), 'Azad' (1955), 'Mughal-e-Azam' (1960), 'Ganga He has acted in more than 50 Bollywood films including 'Jamuna' (1961), 'Kranti' (1981), 'Karma' (1986) and 'Saudagar' (1991).
He received the Filmfare Award 8 times , for the best performance, he received the Filmfare Award for Best Actor 8 times. He has also been honored with the Dadasaheb Phalke Award, the highest honor of Hindi cinema. In 2015, the government also gave him the Padma Bhushan, the country's second highest honor.