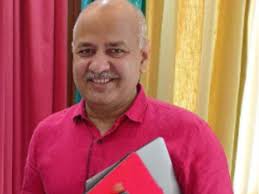 Delhi Budget 2021
Delhi Budget 2021 was presented today by Deputy Chief Minister Manish Sisodia this was the seventh budget in the Assembly that was presented by Manish Sisodia, Which is expected to have a special allocation for free covid-19 vaccination at Delhi government hospitals. This budget is also likely to have proposals to open 'Sainik schools' in Delhi and promote yoga at a wider scale in the City.
Government source said "the government is expected to allocate funds for free vaccines to all people in the third phase of vaccination at its hospitals in Delhi" at present vaccination at the government hospitals is free for elderly and those with comorbidities, the government is also expected share its plant to increase Delhi's per capita income to the level of Singapore by 2047 in the budget.
The Delhi government is working on a plan for taking yoga to the masses in Delhi the government in 10 to popularize yoga through extensive campaigns in residential areas of the city.
Budget Allocations
1.Government allocates 50 crore rupees for an ashram decongestion plan. Underpass at Ashram Chowk to be ready by June this year says Manish Sisodia.
2. Manish Sisodia said that 521 crores will be allocated for promoting art and culture in the state.
3. 3090 crore ru will be allocated for power subsidies 90% of households in Delhi Aaye availing power subsidies subsidies have also been extended for farmers and lawyers.
4. At present there are 6738 fleet of buses active on the roads of Delhi and the government plans to add another 1,000 buses to the count this itself is a used Fiat for Delhi government in future the gift aims to operate 11000 buses on the streets of Delhi.
5. The aim is to have 25% of new vehicles registered in Delhi by 2024 as electric vehicles by the 100th anniversary of Independence Day Delhi should be completely free of vehicular pollution.
6. Olympics should be held in Delhi se Sisodiya while addressing the Delhi Assembly.
7. 16377 crore rupees will be allocated in the sphere of education which will amount to almost one fourth of the entire budget under this budget the Delhi government plans to open 100 schools of Excellence. Delhi will start a virtual Model School, a unique initiative. Delhi will also have a New Delhi Law University teaching training will also be given special attention in this budget.
8. To promote Dhyana and Yoga, the government will provide structures in each Colony and a total of 25 crore budget will be allocated towards this.
9. A budget of rupees 50 crore has been set aside for the covid-19 vaccination drive in total 9934 crore have been allocated for health in the 2021 budget which amounts to almost 14% of the entire budget.
10. "Delhi ke Farishte" scheme to reward victims of road accidents has been a great success in view of this scheme a total of 10600 victims have been saved so far the medical expenses of the victim have been won by the state government.
11. To ease the process of being treated for minor diseases the Delhi government will be opening a Mohalla clinic across the city to help middle class women get better treatment "Vishesh Mohalla clinic" will be opened in the City.
12. Delhi will have its first Sainik School alongside Delhi Armed forces preparatory Academy where besides regular studies students will be acquainted with NDA coaching.
13. All unauthorised colonies will be provided water through pipelines in the coming 2 years. Work on interceptor sewages is nearly complete. This will result in a clean Yamuna in the next three years – said Sisodiya.
14. Delhi government aims to have one e vehicle charging station every 3 kilometres in the City.
15. Anganbadi hub will be available to women to use in the afternoon as Saheli samanvay Kendra this can be used as incubation centres for women who want to start a small business.
Before starting budget Manish Sisodia said        " today I present this "Desh Bhakti Budget" in view of the centre celebrations of India's 75 years of Independence with 75 week as Deshbhakti Mahotsav starting on March 12 this budget will focus on India's 75 as well as hundred years of independence I am presenting the budget at a time when the country is celebrating its 75th years of independence."
'$'