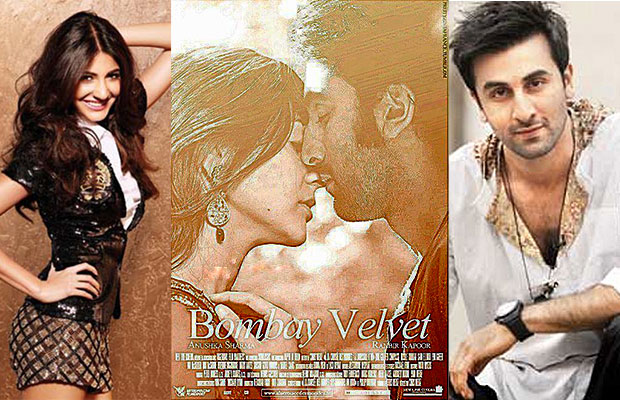 Bombay Velvet is an upcoming Hindi neo-noir romantic thriller crime drama movie directed and co-produced by Anurag Kashyap, based on writer Gyan Prakash's book Mumbai Fables.
Bombay Velvet Trailer
Trailer of BOMBAY VELVET where an ordinary man goes against all likelihood and forges his destiny to become a 'Big Shot'. The story of how one's Dream becomes every man's Nightmare.
Bombay Velvet Story Line
Set in Bombay of the 1960s, the movie tells the story of a boxer, Johnny Balraj(Ranbir kapoor), and an aspiring jazz singer, Rosie(Anushka sharma), and how their hopes and dreams collide with their personal realities. Movie starring Ranbir Kapoor, Anushka Sharma and Karan Johar in lead roles with Raveena Tandon ,Kay Kay Menon Manish Choudhary and Siddharth Basu appearing in supporting roles.
Director Anurag Kashyap's Bombay Velvet
Anurag Kashyap was inspired to make such a movie after reading L.A. Quartet, a series of four crime fiction novels by James Ellroy, set in the late 1940s through the late 1950s in Los Angeles.The novels encouraged him to "dig into the dark trenches of the history of Bombay", where he "discovered a treasure trove that was everlasting".
Movie Release Date and Star Cast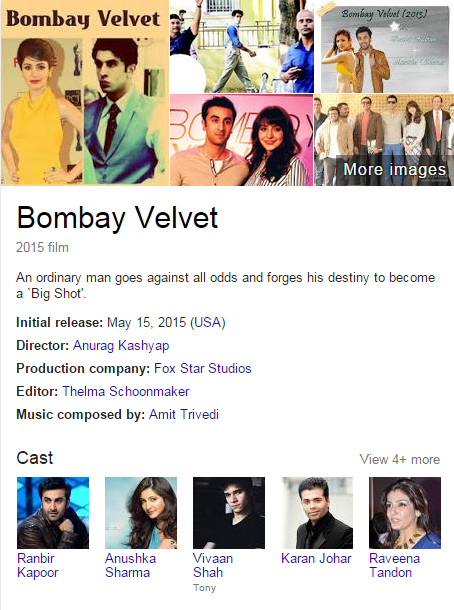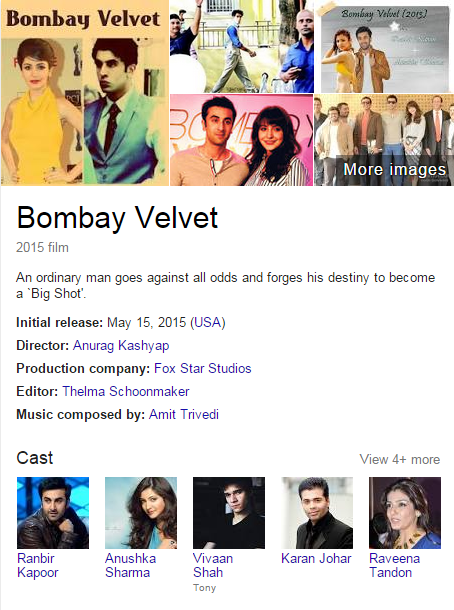 The movie will be released in two versions, one for Indian audience and the other for an international release. The touch-ups for the international version is by Oscar-winner Thelma, who has been a frequent collaborator of director Martin Scorsese, and fine-tuned movies like Goodfellas,The Departed and Raging Bull. While the Indian version concurrently, is being edited by Prerna Saigal, who was an associate director and editor for the Indian movie, The Lunchbox.
A films first teaser was released on 28 January 2015, the movie featured Ranbir Kapoor's avatar as"Johnny Balraj". On 29 January 2015 the official first poster was revealed, featuring Johnny Balraj dressing in a pinstriped suit and holding a Thompson submachine gun in each arm.It's official trailer was released during the India vs Bangladesh 2015 Cricket World Cup quarter final match.