I'm delighted to report that most of "Bhediya," in which a main character transforms into a "icchha-dhaari" wolf, is actually delightful. Humans changing into werewolves is such a common concept that the notion of watching yet another variation wasn't making me jump.
The movie was shot in Arunachal Pradesh, a stunning northeastern state that hasn't yet been overrun by visitors, and it's incredibly picturesque at that. Bhaskar Sharma (Varun Dhawan) finds himself transforming into a werewolf while on a quest to construct a road that directly passes through a dense forest. You know, the kind of animal that bays at the full moon and screams across the valley. Guddu (Abhishek Banerjee) and Jomin (Paalin Kabak), Bhaskar's companions, perform the stunned-horrified-now-what-to-do dance while a nearby veterinarian (Kriti Sanon) injects suspicious-looking substances into Bhaskar's rear, a body part that lends itself to an endless stream of childish jokes.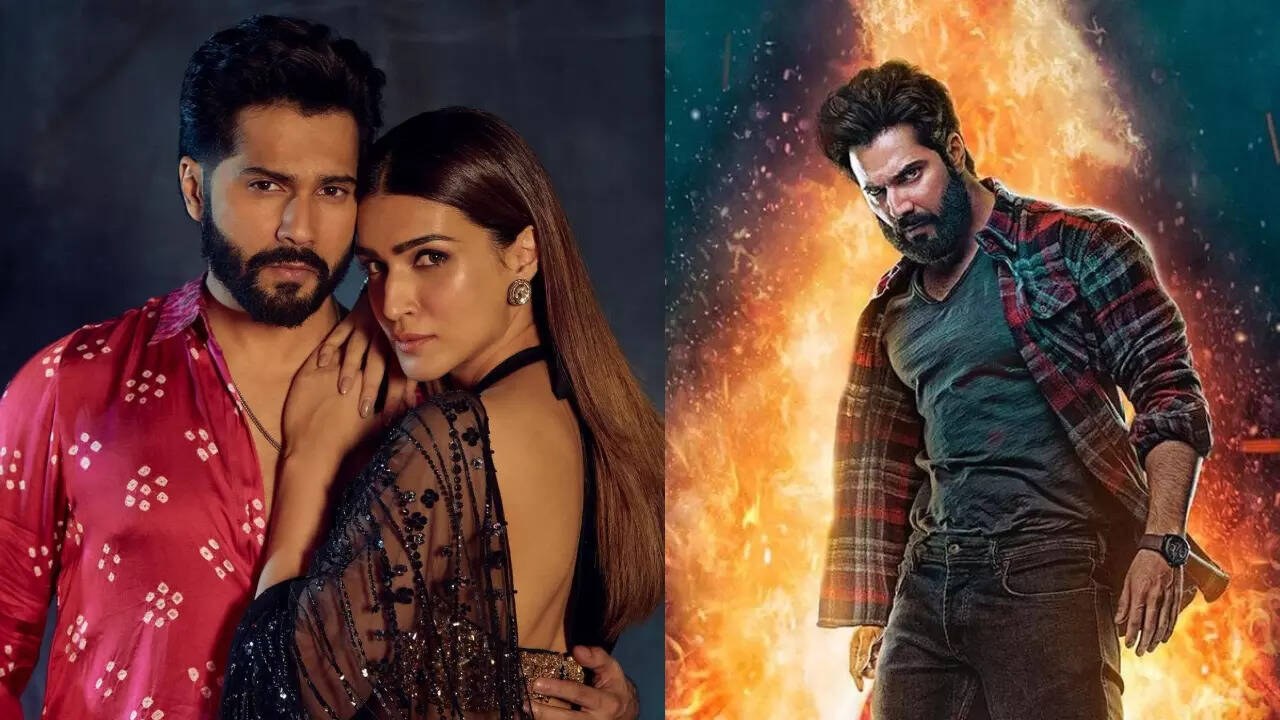 Juvenalia actually rules the roost for most of the movie. A lot of the humor is scatological and finds its laughs in things like people physically sitting on the pot, feces, and its sights, sounds, and smells. Guddu, who plays the role of the hero's best friend/sidekick, clowns well. He is so desperate that we would laugh at his antics that we give in.
Even though the werewolf alternates between seeming frighteningly genuine and being created by graphics, Dhawan does a wonderful job of fitting in with the tone of the movie. The horror is essentially "naam-ke-vaaste," and humour is what the movie is interested in. The CGI people can be seen having a wonderful time by flexing their backs, growing hair, sprouting tails, and even sharpening their fangs. Dhawan uses his capacity to not take himself seriously to good effect, which benefits the movie.
Naturally, the entire purpose of "Bhediya" is to demonstrate to Bhaskar and his friends the folly of their callous actions, and we have several lectures about "prakriti," "progress," and the significance of protecting forests and the natural world that are stressed. The fact that the protagonists are mouthing these phrases without seeming sanctimonious has to do with a local man (Deepak Dobriyal, who is almost unrecognisable with a shaggy wig) who serves as a link between these ignorant city boys and the locals who are concerned about the environment. The movie also sneaks in a few lessons on racism: ignorant North Indians will at least once call a neighborhood chowmein and make fun of "outsiders" before they learn their lesson.
Even in her relatively brief storyline, the film's one and only female character suffer from a lack of clear direction; when Sanon is first presented as a bumbling "jaanwar ka doctor," We are urged to make fun of her, and the literature takes its sweet time to dispel that notion. It goes too far when it calls the villagers superstitious, stating "yahaan toh aise hi hota hai": An "Ojha" arrives to explain the werewolf story, and the shamanesque picturing verges on caricature.
But once more, the movie pulls back just in time with a few of well-timed potty-mouthed remarks and its protagonists acting like oblivious fools to some upbeat music. Given that he already gave us comparable characters in his earlier "Stree" and "Bala" films, this is where the movie is most certain, and this is where director Amar Kaushik feels most assured. And since these folks are on screen the most of the time, we essentially get peak ridiculous folly delivered with assurance. The ha-ha-hee-hee is broken up by a few poignant exchanges between Sanon and Dhawan, which provide some depth. However, the movie is so desperate to avoid being "serious" that such moments appear and disappear, leaving you wishing there were more of them.
With a running time of 2.36 hours, "Bhediya" starts to outstay its welcome near the end. But when things are going well, this jungle brawl is a lot of fun.