Babita Phogat or Babita Kumari Phogat (born 20 November 1989) is an Indian female wrestler, who won the gold medal in 2014 Commonwealth Games and 2018 Commonwealth Games. She also won silver medals at the 2010 Commonwealth Games and a bronze medal at the 2012 World Wrestling Championships.
Biography
Personal life and family
Babita is the sister of India's first gold medalist in wrestling at the Commonwealth Games, Geeta Phogat, and the daughter of wrestler and Dronacharya Award recipient Mahavir Singh Phogat. She has a cousin Vinesh Phogat who also won gold, in the 48 kg category, at the Commonwealth Games in Glasgow.Babita, along with her sister and cousin, have contributed to a change in mindset and attitude towards girls and women in their village in Haryana.
Her youngest sister, Ritu Phogat, too is an international level wrestler and has won a gold medal at the 2016 Commonwealth Wrestling Championship. Her younger sister, Sangita Phogat is also a wrestler.
In June 2019, she announced her engagement to fellow wrestler Vivek Suhag. Babita Phogat joined the BJP on Monday 12 August 2019.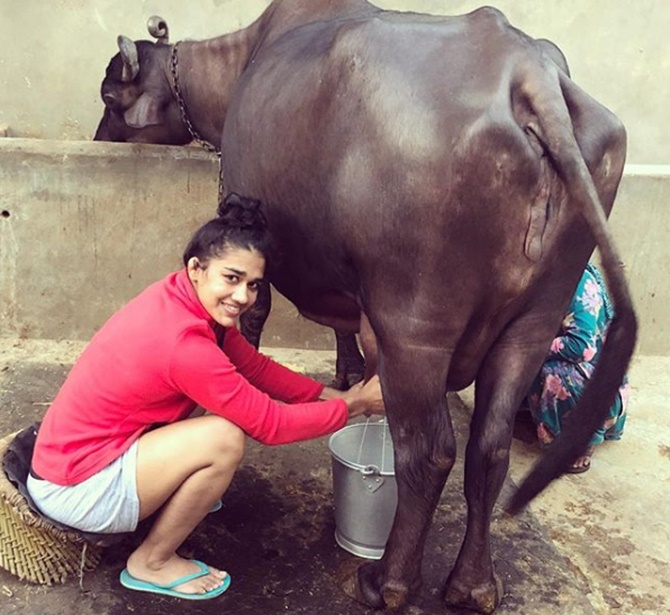 Television
Babita participated in Nach Baliye 2019 with her fiancee/boyfriend Vivek Suhag. They later got married in November 2019.
Career
2014 Asian Games
Babita was not able to repeat her Commonwealth Games feat at the 2014 Asian Games in Incheon, South Korea. In the Round of 16 of the women's freestyle 55 kg category, she faced Srey Mao Dorn of Mongolia whom she beat 5:0. In the quarter-finals, she faced Aiym Abdildina of Kazakhstan whom she beat 3:1. She lost 0:4 to Olympic champion Saori Yoshida of Japan in the semi-finals. She was able to contest for the bronze medal but lost 1:3 to her opponent Xuechun Zhong of China.
2015 Asian Wrestling Championships
Babita defeated Abdy Kadyrova Elsa of Kyrgyzstan 10–0 in the quarterfinal of the 2015 Asian Wrestling Championships, after getting the better of Zukhra Mustanova of Uzbekistan by the same margin in the qualification round. Babita failed to enter the final as she lost her semifinal bout to Pak Yong-Mi of North Korea, losing in the last five seconds.
With a chance for a podium finish, Babita lost to Zhuldyz Eshimova-Turtbayeva of Kazakhstan 3–6 in the bronze medal play-off.
2016 Rio Olympics
Babita became the third and final entry from India in the women's wrestling for the 2016 Summer Olympics in Rio de Janeiro. She represented India along with her cousin Vinesh Phogat. She qualified for the Rio Games after her opponent failed a doping test in the qualifying tournament and the quota was given to India.
Babita lost in the first round 1–5.
2018 Gold Coast Commonwealth Games
Babita Kumari Phogat won the Silver medal in women's 53kg freestyle wrestling at 2018 Commonwealth Games in Gold Coast.
Popular culture
The film Dangal loosely based on the story of her and her sister which released on 23 December 2016. Babita was portrayed by Sanya Malhotra and her younger self by Suhani Bhatnagar.
Politics
She joined the Bharatiya Janata Party in August 2019. She lost to BJP rebel Sombir in October 2019 in Haryana assembly elections from Dadri (Vidhan Sabha constituency).
Medal record
Women's Freestyle Wrestling
Representing 

India

World Championships

2012 Strathcona County

51kg
Commonwealth Games

2014 Glasgow

55 kg

2010 Delhi

51 kg

2018 Goldcoast

53 kg
Asian Championships

2013 Delhi

55 kg
Commonwealth Championship
2009 Jalandhar
51 kg
2011 Melbourne
48 kg
Images of Babita Phogat and Vivek Suhag
Whether 'Zee News' or 'The Hindu', they never have to worry about funds. In name of saving democracy, they get money from various sources. We need your support to run this website. Please contribute whatever amount you can afford.