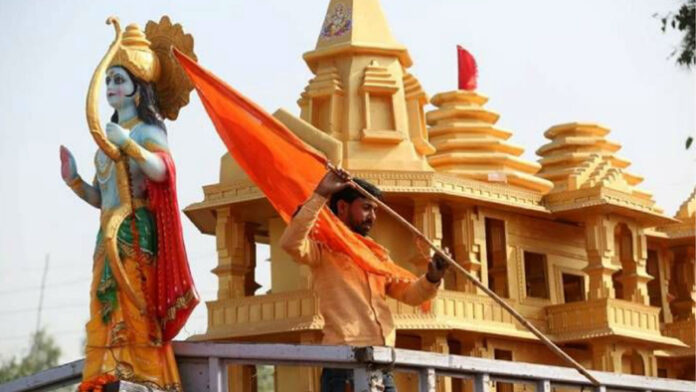 One of the most sensitive topic of debate in India is Ayodhya Ram Mandir dispute case. India has seen several cases of violence and riots because of Ayodhya dispute. This has always been a point of contempt between two communities-Hindus and Muslims. The Hindus consider it to be the birthplace of Lord Ram and it is believed that a temple had been demolished to build Babri masjid at the site. For several years, this has been a point of political, social, religious as well as emotional conflict for the two opposing communities. Finally on 9th November, 2019, came the verdict of the Supreme Court that the control of the site should be given to the Hindus for building a  temple of Lord Ram and Muslims should be given 5 acres of land separately for building a mosque.
Babri Masjid case–
Since 1850s, there has been reports of repeated attacks and demand for possession over the controversial  Ayodhya Rama Janambhoomi site. In 1949, two idols of Rama and Sita were placed inside the mosque and it was claimed that they had appeared miraculously out of nowhere. The ABRM as well as the Sunni Waqf board filed civil suits demanding their claims over the disputed land of Babri Masjid.
The Ayodhya Ram Mandir dispute-
It further intensified when a judgement from a district court allowed the Hindus to enter the Babri masjid site and worship the idols of Ram and Sita.
On the fateful day of 6th December, 1992, the Vishwa Hindu Parishad and the BJP party together organized a political rally, at the site of Ayodhya dispute, which involved around 1,50,000 karsevaks . Ignoring all sorts of laws and regulations, the mob went berserk and demolished the mosque. It was followed by communal riots in several cities including Delhi,  Mumbai, Hyderabad and Bhopal.
According to the reports of the Liberhan commission, the provocative speeches by the ministers and activists led to  mob agitation and demolition of the Babri masjid.
The final judgement by the honourable Supreme Court on 9th November,2019, was on the favour of the Hindu majority community. Ram Mandir is to be built on the Babri Masjid dispute site, while the Sunni Waqf board has been given a 5 acres land as concession for building their mosque. Hope this ends the enmity between two rival communities and lets pray for a new beginning.
Whether 'Zee News' or 'The Hindu', they never have to worry about funds. In name of saving democracy, they get money from various sources. We need your support to run this website. Please contribute whatever amount you can afford.