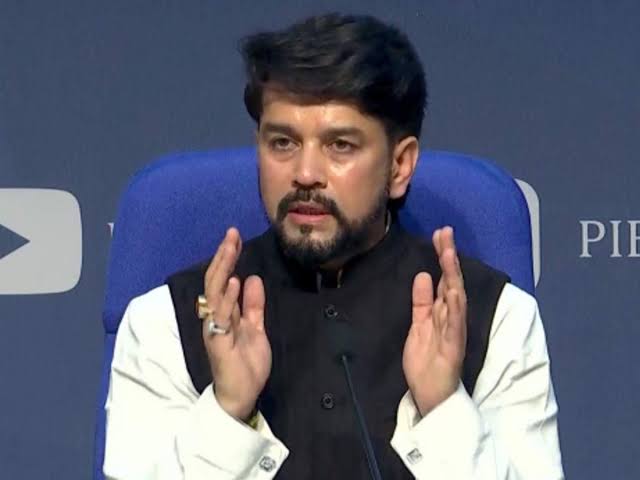 Anurag Thakur Biography Age, Early Life, Education, Family, Career, Personal Information
Anurag Singh Thakur is a member of the lower house of parliament in India from Hamirpur in Himachal Pradesh. He was first elected to the Lok Sabha in May 2008 in a bypoll as a candidate of the Bharatiya Janata Party. He also serves as a Minister of state of finance and Corporate Affairs. He is a four time MP,being a member of 14th, 15th, 16th and 17th Lok Sabha. He was awarded the Sansad Ratna award in 2019,an award established in 2010 by private organisations for recognising contributions by parliamentarians. 
Early Life And Family
Anurag Thakur was born on 24 October 1974 at Hamirpur he is the eldest son of Prem Kumar Dhumal and Shila Devi his father Prem Kumar Dhumal was the former Chief Minister of Himachal Pradesh he completed his BA from Doaba College Jalandhar Punjab. Anurag Thakur married Shefali Thakur on 27 November 2002. Shefali Thakur is daughter of Gulab Singh Thakur, former Public Works Department minister in the government of Himachal Pradesh. 
Career
In 2008 Anurag Thakur succeeded his father when he was elected as member of parliament of India's 14th Lok Sabha from Hamirpur. He was re-elected to the 15th Lok Sabha in 2009,16th Lok Sabha in 2014 and in 2019 17th Lok Sabha.He was appointed the president of the all India Bharatiya Janata Yuva Morcha.He was honoured with the Sansad Ratna award in 2009 for outstanding performance in the 16th Lok Sabha.
In 2019 Anurag became minister of state for finance and Corporate Affairs. He was the president of The Board of Control for cricket in India from may 2015 to February 2017 hi become the first serving member of parliament from the BJP to become a regular commissioned officer in the territorial army. He was fired from his position of BCCI President after the supreme court ordered him to cease and desist  works within BCCI. 
Cricket
Anurag Thakur played a Ranji Trophy match against Jammu Kashmir in November 2001 he was the president of HPCL. He has played one match in first class cricket representing Himachal Pradesh in 2000/2001 season. 
He picked himself for the image so as to fulfill the BCCI criterion which required state administrators to have at least one first class magic sperian for becoming a selector at the state level after this match he appointed himself as the chairman of selectors of HPCL Ranji Trophy cricket team. 
Territorial Army
2016 Anurag Thakur became part of the territorial army becoming the first serving BJP member of parliament to become a regular commissioned officer. Now he is promoted as a captain in the territorial army and is promoted to the post of captain 124 Sikh regiment. Now he has become Captain Anurag Singh Thakur. 
Personal information
Name – Captain Anurag Singh Thakur
Born On – 24 October 1974
 BirthPlace – Hamirpur 
Father – Prem Kumar Dhumal 
Mother – Shital Devi 
Wife – Shefali Thakur
Political Party – BJP
Army Rank – Captain 
Army Unit – Territorial Army
'$'