Amli Talk (SKIT) Lyrics by Sidhu Moose Wala is Latest Punjabi song from his brand new Album "Moosetape". Amli Talk song lyrics are also penned down by Sidhu Moose Wala while music of this fabulous song is given by The Kidd and music video is released by Sidhu Moose Wala.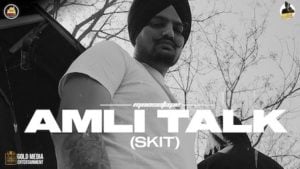 Amli Talk (SKIT) Song Details:
Pehlan Jarda Bullan Vich Launda
Phir Sterring Nu Hath Launda
Oh Mainu Vi Lawadi Bhora
Oh Bhau! Haan Gindra
Munda Bahla Kehda
Kehda Oh G Wagon Aala
Oh Aaho Ohi
Oye Oh Apna Sidhu Ae
Pichon Moose Pind Ton Sunide
Kal Akhbaar Ch Photo Laggi Si
Oh Taan Hi Taan Kaun Ae
Main Pucha Tethon
O Parol Te Baahar Aaya Hoya Ae
Acha Pher Taan Nawa Hi Hai Munda Hai
Oh Haan Haan Munda Taan Nawa Hi Hai
Par Dhande Ch Bahut Purana Ae
Chadhayi Hai Jatt Di Poori Ajj
Amli Talk (SKIT) Music Video
Written by: Sidhu Moose Wala
Found Any Mistake in Lyrics?, Please Report In Contact Section with Correct Lyrics!
You may also like…