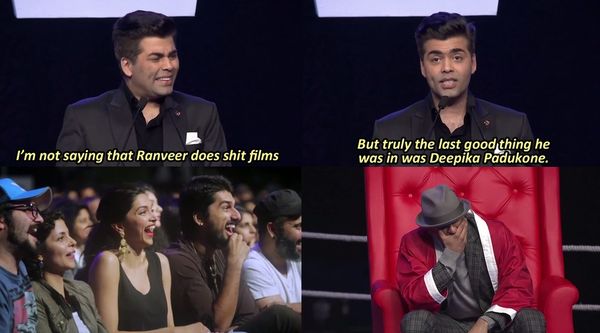 It's always the controversial things which grab our eyes, ears and well our attention. The recent spat over the AIB roast had been all over the news media and it was not only confined to the news room but went on spiralling on  social media sites all floored by comments ,remarks, opinions and yes judgements off course.
The name itself had a lot of eye brows' frowning, leave aside the content. All India Bakchod is the main and the abbreviated version; it had the instant "masala" to igite fire. A comedy group though aimed to spread peals of laughter but the peals had different flavour which roasted all the controversy. This comedy group actually has come up with some typical optical remarks and parodies on politics and film industry which had a typically debated roast show with Karan Johar, Ranveer singh and Arjun Kapoor, it is referred as the All India Bakchod Championship. Well the name itself has that   dubious air, isn't it? The content surely has something more to it.
The event though has sparked a lot of eye balls but raised around 40 lakhs for charitable organisations. It has been claimed that from September 2014 there have been 52 videos going viral with 45 million views. Now that's a sure shot to fame.
Akhilesh Tiwari president of Brahaman Ekta Sanstha from Mumbai had filed a written complaint on February 2015 against the show claiming it to be not suitable for decent viewership and proclaimed of offensive language. After this police has started an enquiry on the show which had Karan Johar, Ranveer Singh and Arjun Kapoor
The film fraternity though has different expressions and reactions to this very controversial affair which is doing its round since a few days in every news channel, social media sites.
Amir Khan who is more of a social crusader had a few words which surely were not on the positive stride. His words were "I completely believe in freedom of speech but as creative persons we have to understand that we all have a certain responsibility towards the society."
Karina Kapoor on the other hand gave a cold air, rather not interested kind of expression and Shahrukh was at his diplomatic best saying he would not take sides.
The bickering and the squabble due to the specific roast has raised a few questions with Maharashtra Government black balling, the question is, is freedom of speech just not justified in India? Well a bit of shade looks like the milder version of Charlie Hebedo but the debate is just not confined to that but surely pricks another side. It's not the vulgar language or the obscenity but a deeper state which has been symbolised and that surely is a debatable affair. The typical Hollywood "fair skinned" ideas, the mockery at "dark skin" "men and women equality lines", and the "homosexual take".
So, the controversy had every colour. Free speech or just cramped version of our thoughts, ideas and views that for you to decide.