Agniveer Scheme – Protest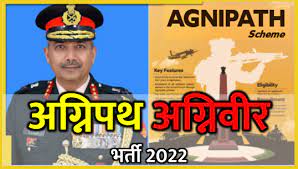 The police administration has made elaborate preparations to stop the violent protest against the Agneepath scheme. Internet has been suspended in 20 districts of Bihar. Today Bharat Bandh has been called, in such a situation, security arrangements have been made to prevent disturbances on the roads, trains and railway stations. On the other hand, the army has made it clear that the Agniveer Scheme will not be withdrawn.
A Bharat Bandh has been called today amid violent protests against the Agneepath scheme. Earlier, a one-day bandh has been called in Bihar and Jharkhand, the worst affected by the violence. Today the nationwide bandh has been called at a time when it was clearly stated in the joint press conference of the three services a day earlier that the Agneepath scheme of army recruitment can be amended but it will not be withdrawn. By the way, after four days of fierce protests, there was peace on Sunday in all the 10 states including Bihar, Uttar Pradesh, Madhya Pradesh, Haryana and Telangana where youths have demonstrated. The Indian Railways has suffered more due to the riots and violence. In such a situation, 483 trains had to be canceled on Sunday. Trains have been stopped in Bihar during the day. The government has banned 35 WhatsApp groups spreading fake news.  Let us know what is the update regarding the traffic in the capital due to Bharat Bandh today, will there be any effect on the operation of Delhi Metro. What is the news of the schools, how attentive is the security system.
Effect of 'Bharat Bandh' in Jharkhand, trains canceled, schools closed
The 'Bharat Bandh' against the Centre's 'Agneepath' scheme is having a special impact in Jharkhand. Many trains were canceled by Ranchi Railway Division amid fears of sabotage during the bandh. At the same time, the operation of private passenger buses is also very less. The number of passengers was also very less at different bus stands of the city. There was silence at other railway stations including Ranchi, Hatia. At the same time, on June 20, all school-colleges and educational institutions had already been ordered to be closed by the School Education Department, so schools are closed today. 
2. Eeffect of Bharat Bandh in Delhi? Metro is running? latest update
According to the information received from Delhi Metro till now, it is running normally. So there is no need to get confused or upset in any way. Earlier, on June 17, gates of some metro stations were closed due to security reasons.
3.  Effect of Bharat Bandh in other cities of UP including Noida?In many states including UP, Punjab, security personnel are on alert regarding the call for bandh. Last week, many cities of the country were heavily vandalized. Trains and buses were set on fire. Violence was witnessed on the streets. In such a situation, today the administration is alert to deal with any kind of violence.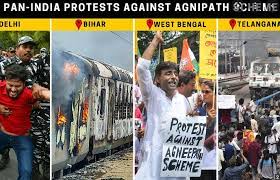 4. Impact of Bharat Bandh on schools in different states?By the way, school holidays are going on in many states including UP. But schools were open in some states, but today there is a holiday due to Bharat Bandh. All schools in Jharkhand are closed today due to the shutdown call.
5. Condition of Faridabad and Gurgaon adjacent to Delhi on Bharat Bandh?Faridabad of Haryana shares its border with Delhi. Here the police administration is alert. It has been told by the police spokesperson that in view of the possibility of activities of anti-social elements during the bandh, videography will be done. If any road is blocked or blocked, the road will be opened after talking to the people in coordination with the concerned Duty Magistrate, Station Manager and other officers. No one allowed to take the law into their own hands. 
6. Are the trains running? Where are the trains cancelled?RPF and GRP have been put on alert to avoid any damage during Bharat Bandh today. Senior officials have given instructions to deal strictly with the miscreants. Cases of violence will be registered under strict sections. Surveillance has been increased at railway stations today. Railways are also on alert in view of Bharat Bandh. 491 trains have been affected due to the disturbance. This includes 229 mail express, 254 passenger trains.
7. The 20 districts of Bihar have internet shutdown?
1- Kaimur,   2- Bhojpur,   3- Aurangabad,   4- Rohtas,   5- Buxar,   6-Nawada,   7-East Champaran,   8-West Champaran,   9-Samastipur,   10-Lakhisarai,   11- Begusarai,   12-Vaishali,   13- Saran,   14-Muzaffarpur,   15-darbhanga,   16-Gone,   17-Madhubani,   18- Jehanabad,   19- Khagaria,   20-Sheikhpura.