Shardiya Navratri has started, and different forms of Mata Sakti will be worshiped for 9 days in India. According to the Hindu calendar, this year the Pratipada date of the Shukla Paksha of Ashwin month is on 26 September. From this date, the festival of worship of Mahashakti started for the next nine days. The nine days of Shardiya Navratri bring faith, devotion, and an opportunity for spiritual practice. It is believed in the scriptures that during these nine days, the goddess comes to earth and gives desired results to her devotees, so Navratri is the best time to worship Goddess Bhagwati. During the nine days of Navratri, nine forms of Maa Durga are worshiped as Shailputri, Brahmacharini, Chandraghanta, Kushmanda, Skanda Mata, Katyayani, Kalratri, Mahagauri, and Siddhidatri Mata who bestows happiness, fortune, and valor to the devotees. This year, on Shardiya Navratri, the arrival of Goddess Durga on earth will be accompanied by an elephant ride. The appearance of Mother on an elephant is indicating that this year happiness and prosperity will increase in the country.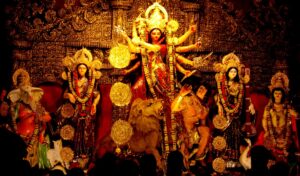 Keep these rules in mind
According to the scriptures, the Kalash is considered a symbol of happiness, prosperity, wealth, and auspicious wishes. All the planets, constellations, and pilgrimages reside in the Kalash. Apart from these, Brahma, Vishnu, Rudra, all rivers, oceans, lakes, and thirty-three Koti Devi Devi The deities are seated in the Kalash. According to Vastu, the northeast (northeast) is considered the place of water and God and has the most positive energy. Therefore, while worshiping, the mother's idol or the Kalash should be established in this direction. Although the area of ​​the Mother Goddess is considered to be South and South-East direction, it should be kept in mind that while worshiping, the worshiper's face should remain in the South or East. Wisdom is awakened and worshiping facing the south gives peace to the worshiper. One should never wear blue and black clothes while worshiping the mother, doing so reduces the fruits of worship. Goddess, The red color is very dear to the mother, so while worshiping auspicious colors like red, pink, saffron, green, yellow, cream, etc. I can wear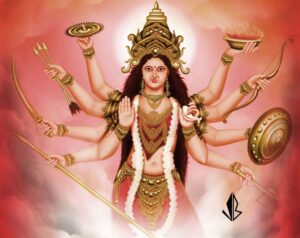 Auspicious time of the establishment
This time Pratipada date will start on 26th September, Monday at 03:23 am, and will end on 27th September at 03:08 am. The Muhurta of Ghatasthapana will be from 06.11 am to 07.51 am. Ghatasthapana Abhijit Muhurta will be from 11:54 am to 12:42 pm.
Sharadiya Navratri 2022
Ghatasthapana Muhurta – from 06.11 am to 07.51 am
Duration – 1 hour 40 minutes