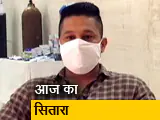 Hyderabad :
It is late night but work is going on at Sai Teja's Hyderabad residence. 18 This techie of the year (technical expert) and his friends, everyone (including his mother, grandmother, niece) involved) are busy opening large boxes of medicines and packing them back into smaller kits so that they can be distributed to remote tribal areas of Telangana. These Kovid medicines, sanitary masks, PPE kits, sanitizers and other items have been provided by the donors and are to be distributed in areas where such resources are not accessible or are outside the economic capacity of the people.
After preparing such 500 medical isolation kits, Sai Teja and his friend Rakesh load them on the vehicle and the next morning with this consignment. Departures to the tribal areas of Eturunagaram (Eturunagaram) where it takes five hours to reach from Hyderabad. All of them are working professionals, so these techies have been doing their job even during their travels by car. Last for these 10 technical experts of Hyderabad The time of the month has been eventful and meaningful, during the lockdown in March last year, with the aim of feeding the hungry migrants and the needy. had come. It was a difficult time when the lockdown was imposed for the first time, so this group realized that their life in terms of work had changed and they would have to work from home without going out. He organized himself and started helping the needy people. When his own resources did not prove to be sufficient, he contacted people online who wanted to help the needy but did not know how to do it. Sai Teja says, 'We were able to understand the concerns and needs of the people. We mobilized resources and, as trustees, ensured that donor contributions reach those who really need it. We played the role of facilitator and made it possible to deliver things to the needy.'
Each activity was video recorded as proof and to maintain transparency and credibility, A full account was kept of how the 'contribution' of the donors was spent. When the death toll due to the corona epidemic started increasing, he started free vehicle service to transport the dead bodies. He also borne the expenses of those who were not able to pay the huge cost of ambulance or who were not in a position to perform the last rites due to financial reasons. Prashant, another worker, says, 'We started the Last Ride Service for the last rites of such affected people whose relatives or close ones are either not available to do so or are not able to afford it. We hired a vehicle, arranged for body carriers and drivers. These people 220 have done the last rites of the dead bodies, in this were killed during the first wave of corona 917995404040 Patients are included. During the second wave of Corona, he 169 cremated the dead bodies, in which 120 was a corona patient. 101 He gave money for the last rites of the dead bodies.
During the second wave of corona, the number of corona cases in rural and tribal areas increased significantly, so they reached places outside Hyderabad as well. They go to remote areas with consignments of medicines and other items where these medical kits are handed over to healthcare agencies. Those who distribute it among the needy. Prashant says that this is the time to help each other in times of unprecedented crisis as the government alone cannot do everything. If we all help each other, then such efforts will increase. Prashant said that any citizen +917995404040 or +91-9490617440 can avail the 'Feed The Needy' service by calling the number.
Lottoland Today In Ka Sitara series we give information about common men and their extraordinary deeds. Lottoland will provide one lakh rupees for the work of Sachin Sharma.